This hand-painted carousel features animals and horses that rise and fall to the music and switches between white and multicolored lights as the carousel moves around 360 degrees. Elegant wooden trimmed with gold base. Controls include: volume, lights, songs and switch for year-round or Christmas music. Now 16" high. Includes 9-volt adapter. Please scroll down for more information.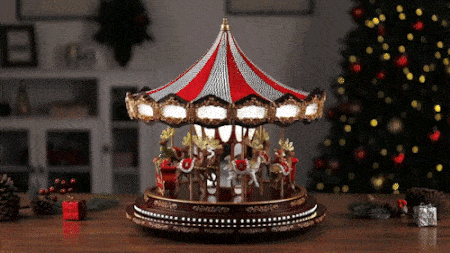 About this item
HAND PAINTED: This fun and festive, elegant hand-painted carousel makes the perfect statement piece for any home this holiday season featuring Santa and his reindeer and stands 15" tall
ANIMATED CHRISTMAS DECORATION: This impressive carousel by Mr. Christmas is the centerpiece that your holiday décor is missing; intricately detailed the reindeer rise and fall as the carousel turns
FEATURES LED LIGHTS: The deluxe carousel is beautifully decorated with over 100 LED lights on the canopy, columns, and base; it features 3 lightshow settings: Multiplex (a dynamic light show where lights flash in tune with the music, Unison (all lights blinking) or steady on
PLAYS 20 SONGS: Plays 20 Christmas carols; volume control allows you the choice to enjoy with or without music
6 FT POWER CORD: This plug-in 120V power cord with on/off switch allows for continuous play; place decoration on a side table, bookshelf, or even the window to bring some joy this holiday season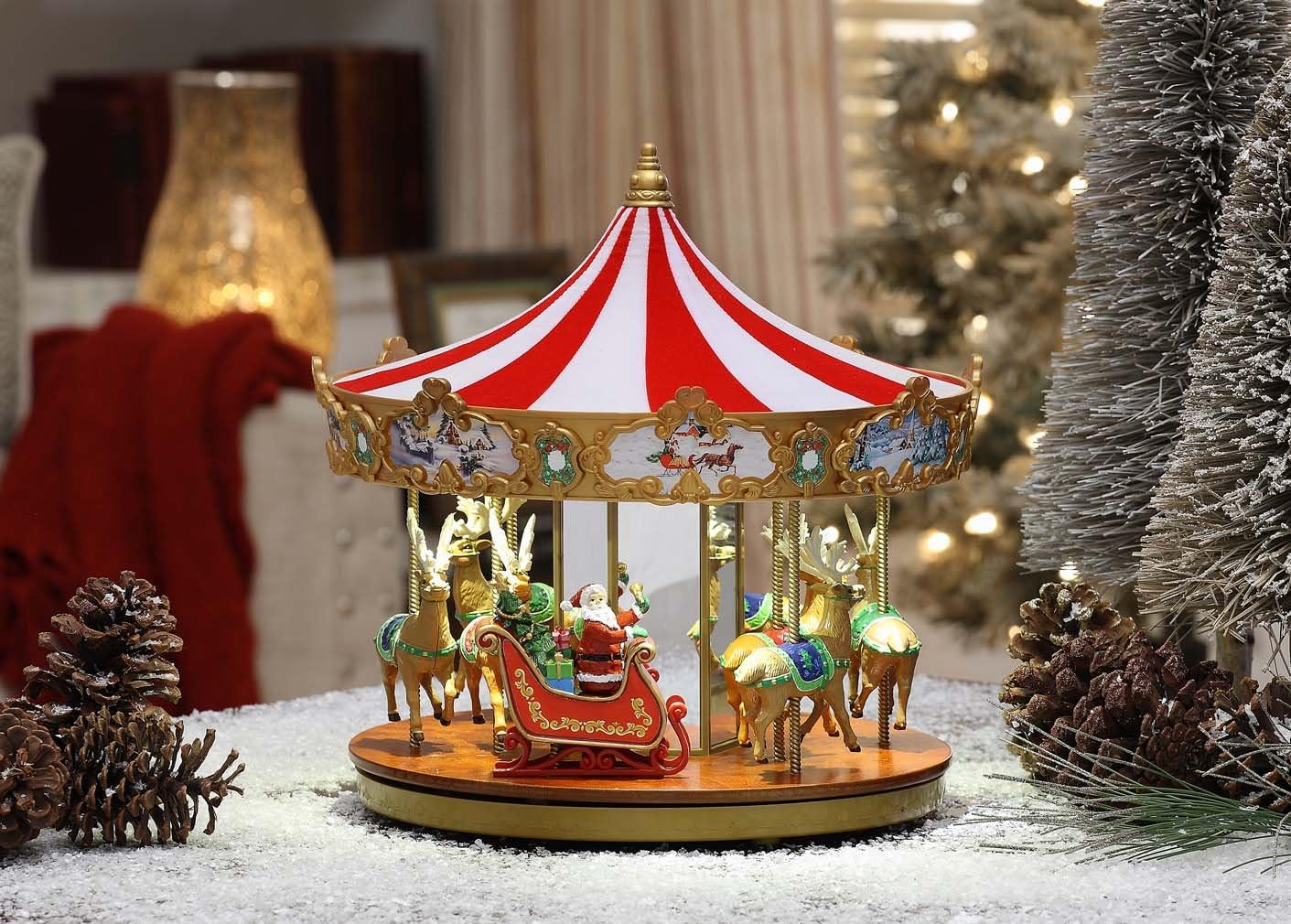 It now plays 20 carols that include:
"We Wish You a Merry Christmas"
"Away in a Manger"
"Joy to the World"
"Jingle Bells"
"Silent Night"
"Deck the Halls" (and more!)
15 year-round classics include:
"In the Good Old Summertime"
"Give My Regards to Broadway"
"Let Me Call you Sweetheart"
"Blue Danube" (and more!)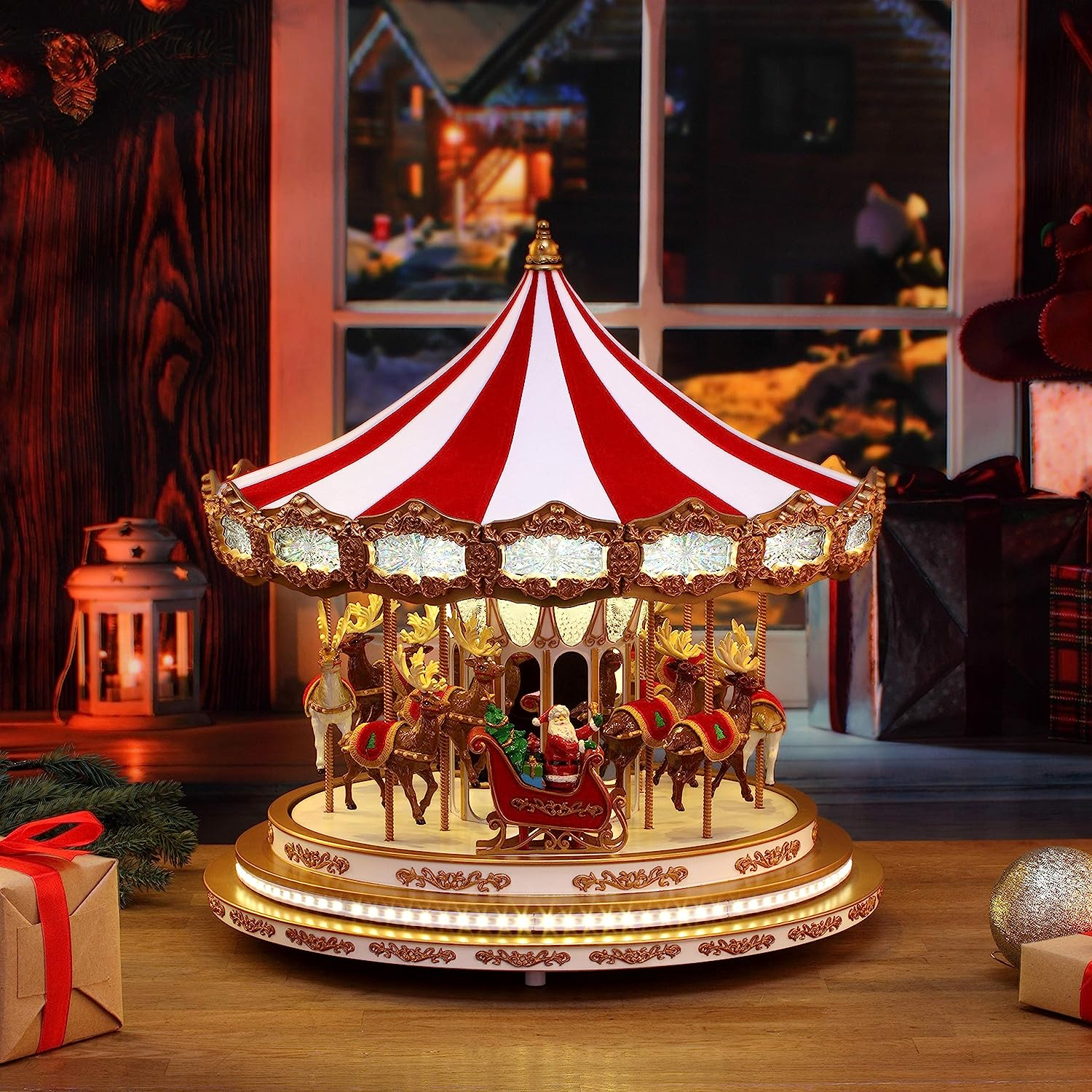 The History of Music Boxes - A Short Synopsis:
Music boxes can be traced back to 1796. Antoine Favre, a watchmaker from Geneva, is known to have fathered nearly two centuries of mechanical dreams. At first merely a novel mechanism installed in watches, snuff boxes, perfume bottles, pendants, etc., the musical movement became the glory of Sainte-Croix during the second half of the 19th century and the industry's activity represented 10% of Switzerland's total volume of exports. It was a source of delight to the more affluent of the world, from Europe to China.
Edison's phonograph, World War I and the crash of 1929, hit the music box industry very hard, almost causing it's demise, but by the end of World War II, American troops stationed in Europe, finding great interest in these "novelties" were bringing them home as souvenirs and the Swiss music boxes were given a new lease on life.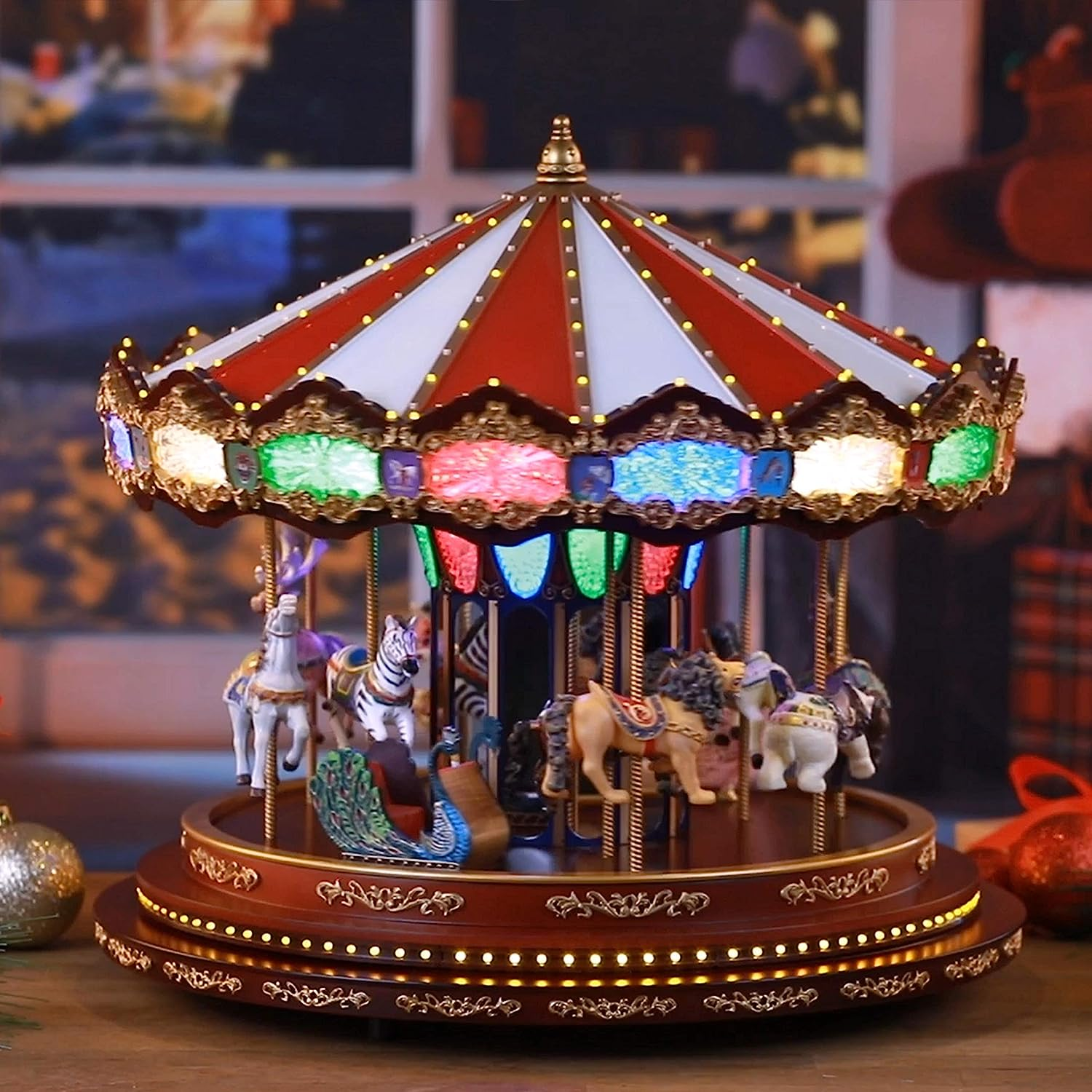 What is Marquetry? A Brief History.
Marquetry is the art of creating decorative designs and pictures by skillfully utilizing the grain, figure and colors of thin veneers and sometimes other materials such as shell or ivory. While the exact origins of marquetry are unknown, it is known that ancient artisans devised techniques to create objects decorated with exquisite inlays of wood, stone, metal, shell, bone, ivory and other exotic materials. They would carve out a recess and fill in the resulting void with the material of their choice, using glues made by heating the bones or skins of animals or fish. Egyptian hieroglyphs and paintings indicate that veneers were cut with bronze adzes and applied as decorative elements to caskets. At this time mosaic work was also widespread, so it can be imagined that it did not take long for craftsmen to start experimenting with designs formed from different veneers.
In the mid-16th century, innovations in spring-driven clocks resulted in the development of the fretsaw, a handheld tool which could be used to precisely cut inlay elements. The fretsaw consisted of a U-shaped metal frame on which was stretched a narrow blade made from a clock spring, at the time the best and most uniform steel available. These relatively thin blades were given very fine teeth that were well suited to cutting thin sheets of wood and other materials.
With the ability to now very accurately cut thin sheets of wood, bone, ivory, shell and other materials into nearly arbitrarily complex shapes, 16th century craftsman began to piece together these materials and shapes into more complex images. The approach, now termed "marquetry" from the French marqueter ("to inlay as on a piece of furniture"), involved the cutting, fitting and gluing of pieces of material into a single sheet and then gluing the resulting sheet down onto a substrate. As such, marquetry differed substantially from inlay in that the design was essentially completed before being attached to the end piece of furniture, rather than being used as an element within the end piece. The earliest known example of marquetry dated 1563 is from Breslau, Germany.
Over the next few centuries, marquetry schools were established in France, Germany and Holland. During the 16th to 18th centuries much exquisite work was produced focused primarily on decorating furniture, especially for royalty. By the early 17th century, marquetry largely replaced inlaid decoration in furniture. Floral designs and "seaweed" marquetry (having the form of symmetrical, foliate scrolls) became quite popular design elements in furniture of the period.
Geometric patterns (often referred to as "parquetry") were also quite popular. Eventually, marquetry extended westward from Europe to America and beyond. Today there is slightly more than a handful of professional marquetarians. [End Quote]
Some we know, reside in Sorrento and Ercolano Italy. They are the skillful masters responsible for most of our beautiful inlaid music box cabinets that we lovingly offer for sale. Sorrento music boxes are well known for their intricate detail and high-quality craftsmanship.
| | |
| --- | --- |
| Theme | Animal |
| Color | Multicolor |
| Style | Marquee Carousel |
| Material | plastic, electrical components |
| Occasion | Christmas, Winter Holidays |
| Product Dimensions | 16.5"L x 16.5"W x 15.4"H |
| Cartoon Character | Christmas |
| Room Type | Office, Living Room, Bedroom |
| Product Dimensions | 1"D x 1"W x 1"H |