---
Buy 2 Get 1 Free (3 PCS)
THE ORIGINAL PATENTED DESIGN: Beware of the copy-cats with poor material and design. Only OUR laundry drying rack comes with a wall template, long screwdriver bit, 8 screws and holes that are 8 and 16-inch apart to perfectly fit on the studs.
SPACE SAVING: This clothes drying rack folding for indoor or outdoor is a great space saver - sleek retractable design folds flat for compact when not in use. Great for space-constraint houses/apartments/hotels.
LARGE DRYING SPACE & HEAVY WEIGHT CAPACITY: STEP UP collapsible wall mounted laundry drying rack features 5 heavy-duty aluminum rods, equivalent to having 11.6 feet of linear hanging line and can hold up to 40 lbs weight.
INDOOR & OUTDOOR: Stainless steel components make it perfect for patios and balconies. Great for laundry rooms, bathrooms, garages, hotel and dorm rooms, as a pool towel rack, retractable clothesline, towel hanger, etc
EASY TO INSTALL: Only Step Up laundry drying rack comes with a wall template, long screwdriver bit, 8 screws & anchors. Also screw holes are designed 8 and 16-inch apart to perfectly fit on the studs
Built for indoor or outdoor use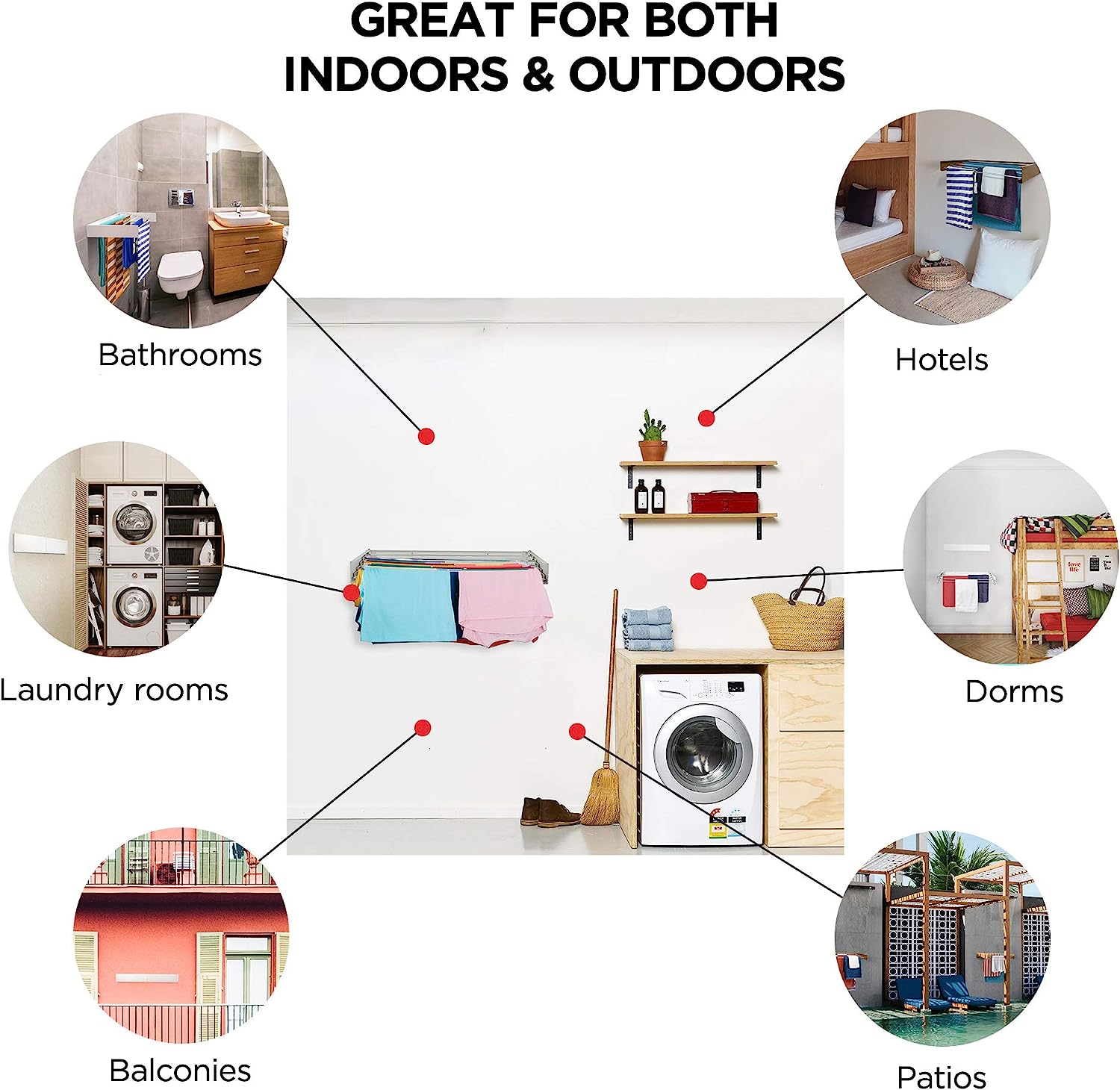 From laundry rooms to bathrooms, the sleek foldable design gives the option to install these drying rack anywhere with a 40" or 28" wide open space.
Made of 100% durable stainless metal, it is designed for outdoor use.
Patios, balconies, backyards...You name it. Electrostatic paint coated iron and aluminum sheet, the Step Up drying rack is ready for the outdoors.
The Step Up clothes drying rack makes laundry time a much easier chore
It features sleek foldable design that sets up in seconds. With a functional width of 40" or 28", it fixes neatly onto the wall to provide generous drying space for indoor usage – for the bathroom, kitchen or laundry area or outside - on the patios or balcony. The side arms are strong and support the rods as they extend out. Simply hang your favorite towels, pool gear, silk scarves or tights and more for energy-efficient air drying. A must-have for any home, this drying rack is a space-saving alternative to floor systems and easy to mount to the wall.
Comes fully assembled
The drying rack comes with mounting hardware including 10 sets of screws (8 sets of 28" models), anchors (not needed for studs), washers and a long screwdriver bit for easy installation.
Key Features
Made of 100% durable metal
No plastic or wood components
40" Wide: 20 feet of linear hanging line: 6 x 40 inches long rods. Weight capacity of 60 lbs
28" Wide: 11.6 feet of linear hanging line: 5 x 28 inches long rods. Weight capacity of 40 lbs
Electrostatic paint coated iron and aluminum sheet
| | | |
| --- | --- | --- |
| Laundry rooms, bathrooms, garages | Dorms, hotels, motels and more | Patios, backyards, poolsides |